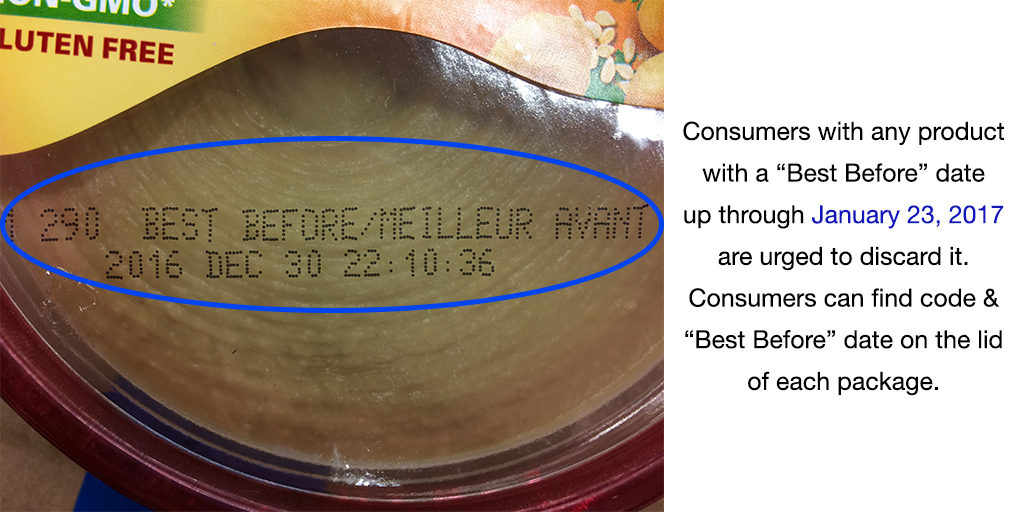 Colonial Heights, VA – Sabra Dipping Co., LLC is voluntarily recalling certain hummus products made prior to November 8, 2016 due to concerns over Listeria monocytogenes, which was identified at the manufacturing facility but not in tested finished product. The recall includes the products listed below; these were distributed to retail outlets, including food service accounts and supermarkets, in the U.S. and Canada.
Listeria monocytogenes is an organism, which can cause serious and sometimes fatal infections in young children, frail or elderly people, and others with weakened immune systems. Healthy individuals may suffer only short-term symptoms such as high fever, severe headaches, stiffness, nausea, abdominal pain and diarrhea.  Listeria infection can cause miscarriages and stillbirths among pregnant women.  The company is issuing this recall out of an abundance of caution.
Consumers with any product with a "Best Before" date up through January 23, 2017 are urged to discard it. Consumers can find code and "Best Before" date on the lid of each package.
* The Sabra Party Platter Selects contains sealed and capped containers of Sabra Classic Hummus 7oz; cheese and Genoa Salame sliced at Daniele International, Inc; and pre-packaged breadsticks. The Genoa Salame is a USDA regulated product; the Party Tray includes the USDA mark of inspection next to the salami packaged in the tray and "EST. 9992" next to the pre-packaged breadsticks in the tray. These Party Trays are subject to recall; the entire contents of the Party Tray should not be consumed due to the potential for cross contamination of other tray components with the recalled hummus through consumer handling.
No other Sabra products are affected. In particular, Sabra products not included in the recall are: Sabra Organic Hummus, Sabra Salsa, Sabra Guacamole and Sabra Greek Yogurt Dips.
Consumers can contact Sabra Consumer Relations at 1-866-265-6761 for additional information from 9:00 am to 8:00 PM eastern time. For product reimbursement, consumers can contact www.sabrahummusrecall.com. Full list of impacted product is below. The company has subsequently taken steps to correct this matter.
The recall is being conducted with the knowledge of the U.S. Food and Drug Administration.
http://www.fda.gov/Safety/Recalls/ucm529967.htm?source=govdelivery&utm_medium=email&utm_source=govdelivery
###